---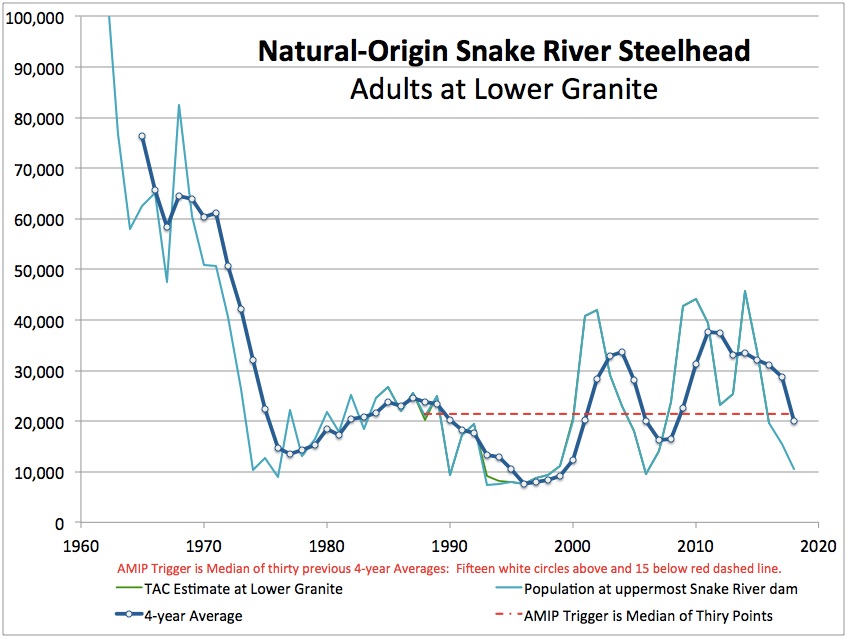 Anglers can expect salmon runs in Washington state to be similar to 2021, according to the Washington state Department of Fish and Wildlife, as it starts the process of setting fishing seasons.
The fall chinook returning to the Columbia River to spawn will continue to be well below the 10-year average and a little below last year, the agency said.
About 230,400 "upriver bright" fall chinook are expected to return to parts of the Columbia River above Bonneville Dam in 2022.
That would be 9,500 fewer than last year.
Sockeye returns to the Columbia River are forecast to be above last year's return at 200,000 compared to 152,300 last year.
However, the endangered Snake River sockeye run looks grim, with a forecast of just 200 fish, according to the Department of Fish and Wildlife.
An estimated 150,000 sockeye at one time made the 900-mile trip from the ocean to central Idaho lakes, according to The Associated Press. Low returns have added to pressure to breach the lower Snake River dams.
Coho forecasts on the Columbia River are up from the 829,800 fish last year, with just under 1 million expected to return in 2022. That is more than double the 10-year average.
"The return of hatchery coho to the Columbia River is expected to be the largest we have seen since 2014, but as always we will have to plan fisheries that meet ESA (Endangered Species Act) limits for listed coho, Chinook, sockeye and steelhead," said Kyle Adicks, state Fish and Wildlife intergovernmental salmon manager.
The salmon forecast is developed cooperatively by the state and tribes using scientific modeling and data on environmental indicators such as ocean conditions, numbers of juvenile salmon that migrated to the Pacific Ocean and the number of adult salmon that returned in past years.
It is part of a larger process that will also include federal regulators, other states and Canada.
An online meeting with more information on the Columbia River upstream of McNary Dam and on the Snake River fisheries is planned for mid March, but the date has not been announced.
Washington salmon fishing regulations are scheduled to be adopted in June after a public comment period in late spring.
"When we set salmon seasons, we always have to start from a place that ensures this iconic resource will be available for future generations, and that means we sometimes have to make tough decisions in the present," said Kelly Susewind, director of the Washington state Fish and Wildlife Department.
Related Pages:
Washington Closes Part of Snake to Steelhead Fishing by Staff, Lewiston Tribune, 9/3/21
Stretch of Columbia River Closing to Salmon, Steelhead Fishing by Bill Monroe, The Oregonian, 9/2/21
Idaho Allows Limited Steelhead Season by Staff, Lewiston Tribune, 9/2/21
Amid Poor Runs, Idaho Officials Propose Limited Steelhead Harvest by Staff, Lewiston Tribune, 8/31/21
Spring Offers Big Steelhead Fishing Opportunities in Smaller Rivers by Idaho Fish & Game, EIN Presswire, 2/18/21
Steelhead Closure Extended In Eastern Oregon by Staff, KXI, 12/26/19
Steelhead Closure Extended on Columbia River by Staff, The Astorian, 12/23/19
Limited Steelhead Season Approved by Staff, Moscow-Pulmman Daily News, 12/19/19

---
Staff
Columbia River Salmon Return Forecast. And What It Means for the 2022 Fishing Season
Tri-City Herald, March 7, 2022
---
See what you can learn
learn more on topics covered in the film
see the video
read the script
learn the songs
discussion forum