---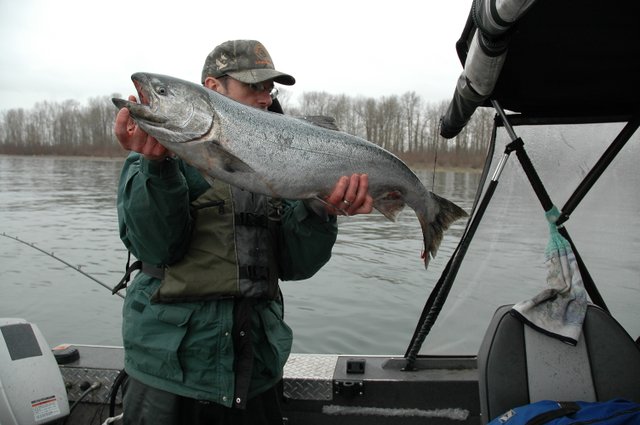 Salmon anglers in the Columbia River had an exceptional season in 2014 and the outlook for 2015 -- at least for fall chinook and coho -- is encouraging, too.
The Washington and Oregon departments of Fish and Wildlife have issued their very preliminary outlook for the fall stocks in 2015. Much more detailed information and specific numbers will be forthcoming in February.
This year, a record-high 1.5 million fall chinook were forecast, with preliminary returns pegged at 1.2 million, similar to the record return in 2013.
For 2015, the outlook for the bright fall chinook stocks, fish mostly headed for upstream of Bonneville Dam, is great. It's predicted the bright fall chinook will be similar to 2013 and 2014 returns.
Tule (darker) stocks of fall chinook, headed mostly for lower Columbia River tributaries plus Spring Creek National Fish Hatchery near Underwood in Skamania County, are anticipated to be slightly better than the past two years.
The 2014 coho run was better than predicted and may approach 1 million fish when all the accounting is done. Remember, the 2014 coho still are providing catch in places like the Cowlitz and Klickitat rivers.
The return of jacks -- two-year-old coho which return a year earlier than their siblings -- was a record-high at Bonneville Dam. So that's good news. The only real downside in the picture is the jack returns to tributaries downstream of Bonneville Dam were only about 50 percent of 2013.
More numbers
Anglers set a new record for Buoy 10 and the lower Columbia River downstream of Bonneville Dam by totaling 451,000 fishing trips. At least it's a new record since 1982, topping the old mark of 433,000 in 2001.
The catch of chinook -- spring, summer and fall stocks combined -- totaled 71,000, breaking the one-year-old mark of 63,000 set in 2013. Another 63,000 coho were taken, predominantly at Buoy 10, along with 16,000 winter and summer steelhead.
At Buoy 10, the chinook-kept-per-trip was 40 chinook per 100 trips, exceeding 34 per 100 in 2013.
Between Tongue Point and Bonneville Dam, the averages were 15 spring chinook per 100 angler trips, nine summer chinook per 100 angler trips and 23 fall chinook per 100 trips.
---
Allen Thomas
Fall Chinook, Coho Outlook Encouraging for 2015
The Columbian, December 29, 2014
---
See what you can learn
learn more on topics covered in the film
see the video
read the script
learn the songs
discussion forum