---
Reports of vigilante shootings on the rise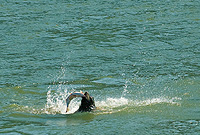 CASCADE LOCKS, Ore. - Above the spillways of Bonneville Dam, Darrell Schmidt patroled with his shotgun, drawing a bead on furry brown California sea lion heads popping up from the Columbia River and blasting off a beanbag round.
All spring he was part of a nonlethal, and not very effective, effort to keep the federally protected animals from gobbling threatened spring chinook salmon as they schooled up at the dam's fish ladders en route to upriver spawning grounds.
"I got one on the back of the neck with a beanbag and he didn't even drop the fish he was eating," said Schmidt of the U.S. Department of Agriculture. Blasts of rubber buckshot, earsplitting pyrotechnics on the river surface and underwater firecrackers haven't helped, either.
In fact, preliminary numbers indicate the sea lions got more salmon this season than in any of the six since records have been kept.
It's the third year wildlife officials have used nonlethal hazing to try to deter the sea lions. But nothing, it seems, trumps the allure of the fat, tasty spring chinook salmon.
Killing any protected marine mammal can bring stiff fines and jail time. Oregon, Washington and Idaho are in the process of getting permission to kill some of the more troublesome animals under the 1972 Marine Mammals Protection Act that shields them. It can take years.
Some congressmen are trying to fast-track the process of allowing "lethal removal" of some of the worst repeat offenders.
"After trying every trick in the book, (lethal removal) is the only option left to stop the sea lions," said Rep. Doc Hastings, of Washington.
The 1972 act protected all marine mammals, some of whom needed it more than others.
Robin Brown of the Oregon Department of Fish and Wildlife said there are perhaps 300,000 California sea lions along the Pacific coast, about six times the number in 1972. Oregon and Washington wildlife officials figure about 1,200 hang out around the mouth of the river. But Brown said only 100 or so regularly show up at the dam each spring.
Meanwhile, some impatient souls, probably fishermen, are beginning to apply a brand of Western justice.
A California sea lion was shot recently near Portland by a frustrated fisherman who saw it take a salmon from another fisherman's line. It was seen alive a couple days later.
Reports of sea lion shootings have increased in the past two years.
In March, according to Brian Gorman of the National Marine Fisheries Service in Seattle, a half-dozen sea lions were found dead in Washington's Puget Sound and others were found dead on beaches. All had been shot.
---
Staff
Nonlethal Tactics Fail to Save Salmon from Sea Lions
Capital Press, July 6, 2007
---
See what you can learn
learn more on topics covered in the film
see the video
read the script
learn the songs
discussion forum