---
Tribes Urge Caution Until More Evidence Of Actual Run Size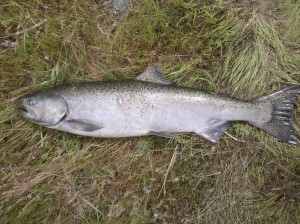 With the lower Columbia River running high, cold and murky and filled with debris, anglers have had little success so far this spring - a fact that prompted state managers on Thursday to allow an extra week of early-season salmon fishing.
During a joint Oregon-Washington hearing state officials extended a season that was to end today. Anglers can now fish harvest fin-clipped hatchery salmon and steelhead through the end of the day Friday, April 13, though sport fishing will be closed Tuesday to, potentially, accommodate a commercial fishery on the Columbia mainstem. The lower Columbia is the 146-mile stretch from Bonneville Dam down to near the river's mouth at the Pacific Ocean.
Through the end of March anglers had taken 50,171 trips to the lower Columbia and landed only 2,024 chinook. Of that total 1,671 hatchery fish were kept. The Oregon and Washington department of fish and wildlife staffs estimate that about 150 chinook will be caught April 1-6 with 125 kept. That would bring the total to 2,174.
Of the total catch through April 6, 1,380 are expected to be "upriver" fish, which are managed carefully to control impacts on stocks such as wild Snake River and Upper Columbia spring chinook that are listed under the Endangered Species Act.
The estimated toll on those upriver fish that are headed upstream of Bonneville through April 6 is 1,163 (kept catch plus the post-release mortality of unmarked this). Such a catch would represent only 9 percent of the lower Columbia sport allocation for the early season.
The allocations are based on a sharing plan developed by the states, federal agencies and four lower Columbia treaty tribes - the Nez Perce, Umatilla, Warm Springs and Yakama. The states have managed fisheries in the lower river in recent years to assure no more than 70 percent of the year's non-Indian allocation is harvested before preseason run-size forecasts can be updated, largely based on counts of upriver fish. Such an update is expected in late April or early May.
That harvest "buffer" is a hedge against the possibility that the run could come in with far fewer numbers than originally forecast.
Managers from the Oregon and Washington departments of fish and wildlife decided that, despite relatively low fish counts, another six days of fishing would not come close to breaching the harvest limits.
"Small counts over the dam aren't a very accurate indicator of run size," the WDFW's Guy Norman said of the first showings of spawning fish. He noted that last year - which also featured a high, cold, muddy river - the first count of 100 or more spring chinook in a single day didn't happened until April 15, and the first 1,000-fish count was on April 25. The counts could build quickly once the fish begin to move.
The forecast for the upriver spring chinook run is 314,200 adult fish, as counted at the mouth of the river. Through Wednesday only 49 spring chinook had been counted passing over Bonneville, with a peak daily count of 4. But things could be picking up. Seventeen passed the dam Thursday.
"But still, we need to move forward with some level of caution," Norman said. The fishery officials will meet next Thursday to evaluate dam count data, and catch per unit of effort by angler. River levels are expected to drop to some degree in the coming days.
The ODFW's Steve Williams said the lower river sport catch through April 13 "should still be within the guideline" even if for some reason the upriver spring chinook return dropped to 105,000 fish. The agency staffs estimate that the total harvest-release mortality through Friday would be 3,600 adult chinook. The impact allocation on a return of 105,000 fish would be 5,900.
"I don't feel it's an undue risk at this time," Williams said of extending the lower river sport fishery.
On average 50 percent of the upriver spring chinook salmon run will have passed over Bonneville by May 7. That 50 percent passage rate has ranged from April 24 to May 12 over the past ten years.
"It is still too early in the run to make any conclusions regarding run size," according to a joint state fact sheet prepared for Thursday's meeting.
In testimony given during Thursday's sport hearing, a tribal spokesman advised against extending lower river fisheries just yet. The four tribes, who for the most part fish upstream of Bonneville, are to this point left waiting for the fish to arrive.
"If this run is only this far along, it is nearly a month later than the recent year average," according to Bruce Jim, who was speaking for the four tribes. "The recent year average is composed of runs that were all later timed than the long term average.
"Unless we are setting a record of the latest spring chinook run since at least 1970, this run is going to be much smaller than forecast," Jim said.
"We are not without hope that the fish may show up," Jim said. "But until we get some evidence that this run is going to amount to something, we think the states should not implement additional fisheries downstream of Bonneville.
"As we have just indicated with the latest run timing to date that we have observed, we would expect a Bonneville Count of 101,340," he said. "If we combine this with the lower river harvest to date it would mean a river mouth run size for upriver fish of about 104,000. We think that for the time being, the states should manage their fisheries based on this run size."
The river is higher and cooler than normal for this time of year but officials can't assume that river conditions are causing a delay in the spawning run.
"In the late timed years of 2005 and 2006, the river was actually warmer than in some earlier timed years," according to the tribal statement read by Jim. "There does not appear to be a direct correlation between low dam counts and cold water. The low counts at Bonneville cannot be simply blamed on river conditions alone.
"Either there is something going on with these fish that we do not understand or this run is a great deal smaller than we had forecast. At this time, it is impossible to know which it is."
The state staffs estimate that the extra six days of fishing will yield 1,500 chinook (1,245 kept), including 875 upriver mortalities. Through April 13, the projected upriver mortalities would total 2,038 fish, or 16.1 percent of the 12,700 available for the recreational fishery downstream of Bonneville Dam prior to a run update, according to state estimates.
The area from Bonneville Dam upstream to the Oregon/Washington border is scheduled to be open for sport chinook retention through May 2.
Meanwhile, the non-tribal commercial fleet hauled in 2,470 chinook during a 12-hour Tuesday fishery that was open from Bonneville down to the river mouth. The catch included about 1,600 upriver fish, according to the ODFW's John North. That is slightly more than one-quarter of the gill-netters upriver allocation under the current run-size forecast.
---
Staff
States Extend Salmon Sport Fishing
Columbia Basin Bulletin, April 6, 2012
---
See what you can learn
learn more on topics covered in the film
see the video
read the script
learn the songs
discussion forum