---
Shorebirds' taste for endangered salmon hurts $1 billion-a-year restoration work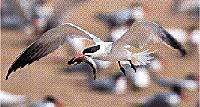 CHINOOK, Wash. _ Caspian terns are thriving 12 time zones from the Eurasian sea that lends the species its name.
Perhaps 20,000 of the black-capped shorebirds will nest this month on two man-made islands in the lower Columbia River. Anywhere else in the world, 100 terns are a big colony, said David Craig, an Oregon State University researcher.
Rice and East Sand islands are home to more than one-third of the U.S. population of the birds. There are more terns here than in all of Europe, Africa or Asia.
Elsewhere, that might be considered good fortune. Sweden, Finland and four other countries are fond enough of the terns to feature them on postage stamps.
But Caspian terns are not welcome here. The birds have fallen into conflict with the region's $1 billion-a-year effort to restore native fish. They're the subject of a court battle and a costly relocation project.
Each year, about 100 million young salmon and steelhead pass Rice and East Sand islands en route to the Pacific from the hatcheries and streams of their birth.
OSU research in 1997 and 1998 found that the terns, which nested solely on Rice Island in those years, ate somewhere between 6 million and 25 million of the fish.
The birds' defenders note that there are many causes for the decline of salmon. The U.S. Fish and Wildlife Service contends that far more fish are killed by dams than by birds.
Paul Engelmeyer of the National Audubon Society holds the region's 100 hatcheries responsible for much of the carnage.
Ninety percent of the river's salmon are reared in hatcheries, where they've learned to rise to the surface for food. That tendency makes them especially vulnerable to birds.
"There are many folks who say this is not a tern problem, this is a hatchery problem," Engelmeyer said. "These hatchery fish are a free lunch, they don't survive well and they attract predators."
Biologists also note the terns were forced to the Columbia because nest sites on the coast and Puget Sound have been lost, primarily to development. If not for that loss, the birds would be eating primarily marine fish, like sardines, rather than salmon.
If not for the two islands, which were created from the spoils of Columbia River dredging projects, the region might be fighting to save the terns. They are listed as threatened or endangered by eight U.S. states.
But the birds are vilified at every public hearing where emotional salmon-saving options are discussed. Don't breach Snake River dams or limit water rights, speakers repeatedly said. Get rid of the damn terns.
Sen. Slade Gorton, R-Wash., told a Spokane crowd in 1998 that the government should simply dredge the islands out of existence. Frustrated members of the Northwest Power Planning Council suggested killing some of the terns.
But migratory shorebirds are protected under international treaty. So instead of killing the terns or leaving them homeless, federal agencies planned to persuade the birds to leave Rice Island.
OSU researchers last year lured 1,400 terns to East Sand Island by clearing away brush, setting out decoys and playing electronic calls.
East Sand Island is five miles upstream from the Pacific and provides the birds with more marine fish than does Rice Island, which is 21 miles farther upstream. Research found that terns on East Sand ate 40 percent fewer salmon than those on Rice Island.
This year's plan called for luring most of the birds to East Sand. Smaller colonies would be established at newly created habitat in Willapa Bay and Grays Harbor, along the Washington coast. Creating habitat involves removing vegetation from sandy areas, because terns like open spaces.
Birds that insisted on staying at Rice Island would face endless persecution from a team of humans. Their eggs would be addled, if necessary, to prevent successful nesting.
More colonies would be created in coming years, and the terns would eventually be chased out of the Columbia altogether.
Environmental groups signed off on the plan. Scattering the terns would assure there'd be survivors should an epidemic hit the colony, said Paul Engelmeyer of the National Audubon Society.
Then, the plan fell apart.
Red tape killed efforts to move terns into Willapa Bay. The Washington Department of Natural Resources denied federal agencies access to a state-owned Grays Harbor island after state Sen. Sid Snyder objected.
Snyder, D-Long Beach, said fishermen were alarmed that terns might take up residence. "We've got a shortage of salmon there, too," he said.
Last month, the Audubon Society and other environmental groups convinced U.S. District Court Judge Barbara Rothstein that moving all the terns to East Sand was inadequate.
The agencies are appealing Rothstein's decision. But on April 28, the 9th U.S. Circuit Court of Appeals ruled against an emergency stay. That means the Rice Island birds can't be harassed this year.
Engelmeyer doubts the government will find a place where the birds are welcome.
"The agencies have made the tern almost into a demon," he said. "Now they're going to have to do some real education" to convince people the bird belongs on the coast.
Meanwhile, past steps taken to make Rice Island less attractive to the birds have worked. About 3,000 terns -- 13,000 fewer than last year -- are nesting there now, amid tattered plastic fences.
The fences, installed last year by the Corps of Engineers, block the birds' vision. They also block the relentless wind, allowing weeds to take root. As a result, the terns' nest site is shrinking.
By the end of April, about 12,000 terns were nesting on 41/2 acres of East Sand Island. More show up daily from wintering grounds as far south as Venezuela.
On the last day of April, Craig and Engelmeyer watched a constant stream of terns, dropping onto the island with fish draped in their red bills. Peering through binoculars, Craig identified yellowish, thick-bodied prey as surf perch. Fish with lobed tails were sardines.
But many of the fish were salmon. Even at East Sand Island, with its diverse offerings of prey, the terns kill millions of the fish Northwesterners are struggling to protect.
Working on it:
The Caspian Tern Working Group, which is working to protect the birds and limit their impact on salmon, is comprised of officials from six federal agencies, plus the Washington, Idaho and Oregon wildlife departments; Washington Department of Natural Resources; Oregon Division of State Lands; the Columbia Inter-Tribal Fish Commission; and Oregon State University.
Related Sites:
www.columbiabirdresearch.org/
---
Dan Hansen
Man-made Environment Creates Disdain at Every Tern
Spokesman Review, May 9, 2000
---
See what you can learn
learn more on topics covered in the film
see the video
read the script
learn the songs
discussion forum