---
Frequent accidents prompted police patrols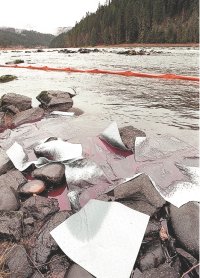 KOOSKIA, Idaho -- The truck crash that spilled thousands of gallons of diesel into a premier salmon stream is the latest of many on U.S. Highway 12.
Accidents involving big trucks were so common along the twisty highway that Idaho State Police began "emphasis patrols" midway through 2001, ticketing speeding drivers. Many of the 28 drivers who crashed trucks in six months were going too fast for conditions, an ISP captain said.
It's not clear whether speed was a factor Sunday morning, when Kenneth James, 73, rolled his tanker truck and trailer near here, closing the highway for 12 hours. James, who was not injured, lost control of the truck on a curve, then overcorrected, according to an ISP report.
Contacted Monday at his home in Alberton, Mont., James would not comment about the accident that left him hanging upside-down in the cab of his Kenworth. He quickly slipped out of his seat belt and the truck cab.
He was hauling 10,000 gallons of agricultural diesel from Missoula to Grangeville, Idaho, for High Noon Petroleum.
Most of it poured into the Clearwater River, home to threatened steelhead and chinook salmon.
The diesel plume, which continued moving about 1 mph Monday, left oily rainbows in the river's quiet eddies. Crews from several state and federal agencies tried as best they could to mop it up.
The downstream towns of Kamiah and Orofino were forced to shut down water systems that draw from the river, said Debi Ruppe, spokeswoman for the Idaho Bureau of Disaster Services.
The towns have reserves, but one public water system in Orofino was expected to go dry Monday night, said Hudson Mann, hazardous materials analyst for the Idaho Department of Environmental Quality. The state may require High Noon to supply the town with water.
"My job here is to ... make sure everything's being done to clean up the river," said Chris Goodman, a High Noon representative who joined state and federal officials on the river Monday.
The plume was not expected to reach Lewiston, at the confluence of the Clearwater and Snake rivers, until Wednesday. Until then, Lewiston will continue drawing water from the river, although it shut off its pumps for a time Sunday, said David Six, manager of the city water system.
"We're not sure that we'll have any serious impacts at all," Six said.
It's also unclear whether the river will sustain long-term environmental harm, said Ed Schriever, regional fisheries manager for the Idaho Department of Fish and Game.
Right now, the Clearwater is full of adult steelhead salmon, many of them the products of hatcheries. Workers found no dead fish Monday, but kills can occur days after a diesel spill, Schriever said.
The oil appeared to be staying on the surface. If it sinks, Schriever said, it could smother the eggs of fall chinook salmon, which spawn in the Clearwater downstream from the spill.
Ducks, beavers, otters and other river critters may also be oiled.
Wildlife is a concern, said Mann, "but primarily we're concerned about the human health part of it."
While dozens of people in raincoats and waders fished for the Clearwater's hatchery steelhead Monday, about 20 people were dealing with the fuel. They came from more than a dozen public agencies and private firms.
Crews raced up and down the highway, looking for new contamination along the shore.
Terry Jackson, who hadn't slept for at least 30 hours, grabbed a bag of absorbent pads from a truck and sent another pair of workers down the riverbank. The Kamiah man, who owns Clearwater Environmental and was one of the first on the scene Monday, said he'd never seen the Clearwater suffer a spill so large.
"Now we've got to take care of it quickly," he said.
A dozen men and women at the crash site worked with booms and pads in 35-degree water. They were trying to catch and contain the fuel sifting down the steep, boulder-covered bank.
Other booms were placed elsewhere in the river, while biologists cruised in boats.
"This is about as big as it gets," said Doug Gregg of the Idaho Bureau of Hazardous Materials. "We're not ready for cleanup. We're still doing containment. There's going to be folks doing this around here for days."
Goodman said High Noon will hire Oregon-based Foss Environmental to help with cleanup.
Kamiah resident Becky Brotnov spent Sunday and Monday shuttling workers and food the 17 miles from town to the spill, while her daughter and some friends worked in the river.
"At least it's not too far out of town," she said. "We're lucky it wasn't clear up by the Montana border."
U.S. Highway 12 drops steeply from Lolo Pass, on the Idaho-Montana line, to Lewiston. It follows the route used by explorers Lewis and Clark nearly 200 years ago.
It's a mountain highway that sees an average of just 900 vehicles a day -- more in summer and fewer in winter. A higher-than-average 17 percent of those vehicles are trucks (17% of 900 = 153 trucks per day), according to the Idaho Transportation Department. Many of those trucks haul timber and other commodities to Lewiston.
The 55-mph speed limit is slower than what's allowed on most Idaho highways. But there are no special restrictions on the size or types of trucks that can use Highway 12, said Paul Crowe of the transportation department.
Last year, during the first six months alone, 28 commercial vehicles crashed along the 70 miles between Lolo Pass and Lowell, Idaho, according to Idaho State Police records. Records for more recent months were not available Monday.
"Drivers, especially commercial drivers, have to drive to the geometrics of the road," said ISP Capt. Danny Bunderson, noting the winding features of the highway. "What we find is, more often then not, they push it too fast or don't anticipate the next curve."
ISP was concerned enough that it sent out a press release in June, announcing a crackdown on speeders. The rate of accidents "slowed down somewhat after that," Bunderson said.
---
Dan Hansen and Hannelore Sudermann
Crews Try to Contain Diesel Spill
Spokesman Review, January 8, 2002
---
See what you can learn
learn more on topics covered in the film
see the video
read the script
learn the songs
discussion forum