spotlighted growing national interest in green building techniques, including daylighting. Under the Council's Leadership in Energy and Environmental Design (LEED) rating system, up to two points can be earned for daylighting buildings and providing enhanced outdoor views.

Loveland said studies providing empirical evidence for the beneficial effects of natural light on human health and productivity have helped stimulate growth in daylighting. For example, school performance studies in 1999 and 2001 by California-based Heschong Mahone Group found a strong correlation between daylit classrooms and higher reading and math test scores.

Another Heschong Mahone study, released in 1999, found that an anonymous large chain retailer experienced an average of 40-percent higher sales in stores with skylights compared to stores without skylights.

A 2003 Heschong Mahone study of a different anonymous chain--which had a less aggressive daylighting strategy and more variation in daylight conditions and building design--also experienced sales increases correlated with daylighting, but not the magnitude found in the 1999 study.

The reasons why daylighting is associated with increased sales are not fully clear. "Interviews with shoppers in the skylit stores revealed an almost total lack of awareness of the skylights but a clear perception that the store was more spacious than other similar stores. This suggests that it was the contribution of the skylights to the visual environment in the store that was responsible for the impact on the sales index," said a 2003 literature review on daylighting benefits, sponsored by the Alliance and seven other government, utility and energy research entities.

Numerous studies show people prefer daylight to electric light, according to the Daylight Dividends Web site maintained by Rensselaer Polytechnic Institute's Lighting Research Center. For example, a 2003 study found "a small but statistically significant reduction in negative mood" for people who worked briefly in an office with a big window during the day. No such reduction was documented for people working in the same office at night.

Before such studies were widely published, belief in daylighting's benefits "was intuitive," said Loveland. "We always knew that people liked windows, that they're a perk."

Windows do more than allow light inside. Outside views of natural settings can promote psychological well-being, according to a July 2002 article in Environmental Design+Construction magazine by Dr. Judith Heerwagen, a Seattle-based environmental psychologist.

However, Brown cautioned that a causal link between daylighting and increased productivity has not been conclusively proven. "It makes intuitive sense, but there is a complex interweaving of variables. It's hard to prove definitively," he said.

"Mood is subject to so many influences that unless the lighting is really uncomfortable, its influence is likely to be overshadowed by many other factors," the 2003 literature review concluded.

The U.S. Green Building Council report called for "robust studies" to verify and quantify productivity gains associated with green buildings. The council pointed out that the European Union spends six times as much as the United States on building research.

Nevertheless, with employee costs accounting for 90 percent to 95 percent of a building's life-cycle costs, upping productivity by improving the indoor environment is a strong selling point for building owners, Loveland said.

A high-quality indoor environment can be far more attractive to clients than energy savings, he noted. "I sell energy efficiency, but I hardly ever talk about it," Loveland said.

Energy Saving Potential

Daylighting's potential to reduce lighting electric load is not trivial, according to the Alliance report. In a simple analysis, the report estimated potential daylight savings of nearly 2 average megawatts were available in commercial buildings constructed in the four-state Northwest during 1998.

Buildings with work spaces well lit with diffuse natural light can cut electricity loads by more than 40 percent, both through reduced electric lighting loads and peak cooling demand, Loveland wrote in the winter 2004 edition of the Lighting Design Lab newsletter.

However, productivity gains can dwarf energy savings. The 2003 Heschong Mahone retail study found "the profit from increased sales associated with daylight is worth at least 19 times more than the energy savings, and more likely, may be worth 45-100 times more than the energy savings."

The U.S. Green Building Council report said the annual personnel costs for a commercial building average $200 per square foot, while average annual energy costs are about $2 per square foot. The value of a 1-percent increase in employee productivity works out to $3 per square foot annually, according to a 2003 report on green building benefits written for a consortium of Massachusetts public and private entities. Over 20 years, the net present value of a 1-percent productivity increase works out to $35 per square foot, assuming a 5-percent discount rate.

Brown said daylighting does not automatically produce energy savings in all cases. Many times, architects incorporate daylight "to create an ambience to bring out forms and textures, not necessarily to turn off (electric) lights," he said.

To produce energy savings, architects must incorporate techniques such as light shelves and careful surface choices to distribute daylight and reduce the need to artificially light dim areas in the building's interior. "You have to be much more sophisticated" in design techniques to achieve significant energy savings through daylighting, Brown said.

Controls that adjust electric lighting in response to daylight "were the item most likely to be cut out of a (daylighting) project before completion," often for cost reasons, said the Alliance's report.

Daylighting Ingredients/Barriers/Costs

What makes a good daylighting project? Architects identified several do's and don'ts that make a critical difference.

Educating clients about what makes a high-quality daylit building is the first step, said Bill Harper, associate principal of BOORA Architects in Portland.

Harper, who specializes in designing primary and secondary schools, said "value engineering" that integrates the many components of building design is essential.

For example, correct glazing selection is crucial to sizing a mechanical system in a daylit building. If the wrong kind of glass results in excessive heat loss, for example, a mechanical system sized for a daylit building may not have enough capacity to keep the building comfortable.

"The right kind of glass may cost you $20,000 more, but you'll save $30,000 on duct work," Harper said.

In addition, more natural light is not necessarily better. Too much of the wrong kind of glass in the wrong places can result in occupants getting blasted with direct sunlight or sweltering in an overheated workspace--which in turn can actually reduce productivity, Loveland said. "No kid wants to sit and do math when he's too hot," he said.

The trick is careful building orientation and use of architectural treatments, such as overhangs and clerestories, that block direct sunlight and spread diffuse light throughout the interior. The Pierce County Environmental Services building, for example, features skylight "chimneys" that bring natural light into open work areas, Wolf said. Baffles are used to prevent glare.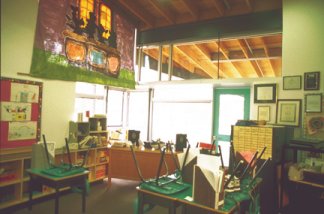 Daylighting design conditions differ geographically. In the Northwest west of the Cascades, circumstances are "ideal," Brown said. Nearly two of every three days are cloudy, and the overcast produces diffuse, even lighting sought by daylighting designers, he said. East of the mountains, architects must contend with colder temperatures and frequent sunny days.
North-facing windows can be a great daylighting asset on the cloudy west side. On the east side, however, north-facing windows usually will result in excessive heat loss during winter, Loveland said in a 2003 "Lessons Learned" presentation.
Perception of higher first costs is a market barrier to green building generally, according to the U.S. Green Building Council report, even though "many green buildings are designed and constructed at comparable or even lower costs than conventional buildings."
Other market barriers were cited in a 1999 Heschong Mahone report to the California Energy Commission. Interviews with skylight manufacturers, utility energy efficiency program staff and architects cited three barriers: 1) Fear of roof leaks; 2) Perceptions by building owners that buildings with skylights are not "normal"; and 3) Lack of integrated design, which forces architects and engineers to use alternatives to standard practices.
Do daylit buildings cost more than buildings primarily dependent on conventional electric lighting? "It depends," Brown said. The incremental cost of daylighting, if any, depends on what's included in the capital cost baseline in the first place, he explained.
Daylighting does not necessarily mean more glazing, but optimized glazing used more efficiently, he said.
"In our experience with schools, a market that is really conscious of capital costs, we can show that buildings that are 60- to 80-percent daylit cost no more from the capital budget than conventional buildings, plus the kids learn more. That's a compelling insight," Loveland said.--
---
by Jim DiPeso
Daylighting Gains Popularity in Northwest
Con.Web - February 27, 2004
---
See what you can learn
learn more on topics covered in the film
see the video
read the script
learn the songs
discussion forum