the film
forum
library
tutorial
contact

Tribes Work to Raise Awareness of
Consumer-Product Pollution in Columbia River System

by Terri Hansen
Indian Country Today, July 2, 2012
---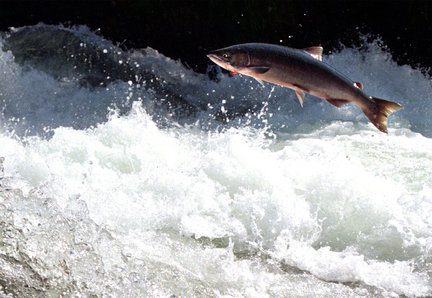 PORTLAND, Oregon -- Toxic shampoo residue. Pharmaceuticals. Scary-sounding names like triclosan, Trimethoprim and polybrominated diphenyl ether.
These are the runoff of daily life, and they are making their way to a water source near you. Even the best wastewater treatment plants can't remove them, because the facilities were designed before so many chemicals were in daily use.
A recent study by the U.S. Geological Survey (USGS) has found these and other substances in water samples tested throughout the Columbia River ecosystem. And they are not being poured by the vat-full into our rivers, lakes and streams. They are entering watersystems in dribs and drabs, put there by consumers.
According to the Environmental Working Group, the average American woman, for instance, applies one to two dozen personal care products daily to the body's biggest organ, the skin, totaling hundreds of chemical compounds. And just one product can cause trouble. Some shampoo formulas release toxic residues into the lower Columbia River, where they enter the food chain. Even if your shampoo is safe, chances are the hand soap contains the disinfectant triclosan, a suspected endocrine disruptor. The study found it too, in water samples collected from wastewater treatment plants, as well as in storm runoff from roads and urban environments in nine Oregon and Washington cities along the river.
Personal care products were among hundreds of contaminants identified by the USGS, in cooperation with the Columbia River Inter-Tribal Fish Commission (CRITFC) and the Lower Columbia Estuary Partnership.
What goes down our drain eventually gets to the river, USGS hydrologist and principal investigator Jennifer Morace said. Municipal wastewater treatment plants serve as a pathway by which pollution travels from urban environments to ecosystems. They are not designed to remove new or emerging contaminants, but rather treat for nutrients and bacteria, "that sort of thing," Morace said. "But they're not designed to deal with the things that we're putting down the drains now."
Because toxic pollutants are not removed by normal purification processes in treatment plants, "it is wise to think twice before washing or flushing anything down the drain that can harm the environment," USGS survey director Marcia McNutt said.
Toxic contamination is a significant concern in the Columbia River ecosystem since hundreds of fish and wildlife species, including 12 stocks of threatened and endangered salmon species, rely on it for their habitat and food sources.
"We need to know what's getting into the river and where it's coming from," Morace said.
The samples also yielded pharmaceuticals, plasticizers, PCBs (polychlorinated biphenyls), PBDEs (polybrominated diphenyl ether) used as flame-retardants, PAHs (polycyclic aromatic hydrocarbons), currently used pesticides, mercury, steroids, estrogenic compounds, and legacy compounds like organochlorines. The prescription drug carbamazepine, used to treat epilepsy, bipolar disorder, and attention deficit hyperactivity disorder; and diphenhydramine, in over-the-counter allergy relief and sleep aid medications were detected at every plant tested. Trimethoprim, a prescription antibiotic, was detected at all except Umatilla.
More than 3.9 billion prescription drugs are sold annually in the U.S., an average of 12 per person. The human body excretes 50 to 90 percent to enter the wastewater stream. Unused medications are otherwise disposed of. Consumers used to flush them, an outdated practice now discouraged to reduce the amount of drugs that reach treatment plants. Today consumers are asked to mix unused pharmaceuticals with dampened coffee grounds or kitty litter then dispose of them in the trash, but residential homes, long-term care facilities, hospitals, and veterinary clinics may still be sources for medications reaching the environment. Typical wastewater treatment techniques remove some of these active drugs but not others, such as carbamazepine.
The tribes recognize that healthy waterways are essential to a healthy ecosystem and healthy communities, Sara Thompson, CRITFC public information officer said.
"We are working to address the issues created by legacy contaminants like PCB and dioxin and investigating the impact of emerging contaminants like flame retardants and pharmaceuticals," Thompson said. "In order to address these issues we will need to work with our federal and state partners. We are committed to making that happen."
Lisa P. Jackson, administrator for the U.S. Environmental Protection Agency (EPA), met with leaders from 15 Columbia River Basin tribes in early May.
"Of particular focus were tribal concerns about water quality standards and whether they are protective enough for tribal communities," Paul Lumley, CRITFC executive director said.
Concern about toxics in the river prompted a CRITFC fish consumption survey in 1994, which revealed that Columbia River tribal peoples eat a great deal more fish than the national average. The EPA's daily recommended fish consumption rate is 6.5 grams, while the average Columbia River tribal member consumes 58.7 grams of fish per day. Because tribal members typically consume not only the meat but also the entire fish, they are exposing themselves to even higher toxicity levels in their diets. CRITFC's then executive director Ted Strong said the survey results, and EPA's concurrent conclusions on the toxicity of organochlorines in the river meant that existing federal and state policies were not protecting the health of tribal members. He urged an investigation "for possible violation of President Clinton's Executive Order on Environmental Justice and the Civil rights Act."
Thanks to that survey, "Oregon now has the strictest water quality standard in the nation," Lumley said. "We are now working hard to amend water quality standards in Washington and Idaho as well."
The USGS study is designed to help guide water managers and policy makers in addressing toxics reduction activities. Lumley said they hope to develop a framework for decision-making and action on toxic reduction efforts in the Columbia Basin at an upcoming CRITFC-hosted Columbia River Toxics Reduction Workshop.
"Now that we understand how toxics have made their way in to our river system, we must take immediate action to address the sources of contamination and begin clean up," he said.
It's every one of us now, said Deb Marriott, executive director of the Lower Columbia Estuary Partnership.
"It's not just one pipe or one factory or one smokestack causing the biggest part of the problem," she said. "The biggest part of the problem is us."
Related Pages:
Toxic Contaminants and Their Effects on Salmonids by Morace, Johnson & Nilsen, Science Policy Exchange, 9/11/9
---
Terri Hansen
Tribes Work to Raise Awareness of Consumer-Product Pollution in Columbia River System
Indian Country Today, July 2, 2012
---
See what you can learn
learn more on topics covered in the film
see the video
read the script
learn the songs
discussion forum