---
Record heat didn't stop summer Chinook and sockeye from returning to the Columbia River in record numbers, and it likely won't slow the fall Chinook run that started Aug. 1.
The summer Chinook run of 115,000 fish was the largest since 1960 and sockeye tallied 509,000, making it the third-largest run in modern times.
Despite record water temperatures in some places, the fall Chinook run is expected to be a whopper. Fish managers are forecasting a return of 925,000 fish to river mouth, making the run 147 percent of the 10-year average. The majority of the fall run is destined for areas above Bonneville Dam.
The prediction for coho, a predominantly lower Columbia River stock, is just as rosy, as fish managers are calling for a return of 540,000 adult fish.
About 300,000 upriver steelhead runs are also anticipated to return, which is in line with the 10-year average.
The healthy returns are allowing state and tribal harvest managers to open another fishing season on the river. Indians and non-Indians have been harvesting their carefully allotted spring Chinook, summer Chinook and sockeye.
Stuart Ellis, chair of the harvest-oriented Technical Advisory Committee, said sockeye fisheries are conservatively managed under a harvest rate schedule agreed to in the U.S. v. Oregon Management Agreement.
The combined harvest rate for Indian and non-Indian fisheries is 8 percent of the river-mouth run size. This year that rate is expected to be somewhat less than the allowed 8 percent, he reported.
"If we reduced or eliminated fishing, it wouldn't have a matching effect on the number of spawning fish, because many of the fish that weren't harvested could still die as a result of the warm water," Ellis said.
The Oregon-Washington Columbia River Compact adopted commercial and recreational harvest regulations for fall Chinook on July 29. Fishing started Aug. 1 in Columbia River areas below Bonneville Dam.
Tribal commercial and subsistence fishing also began Aug. 1, in accordance with tribal regulations. Enrolled members of the Yakama, Warm Springs, Umatilla and Nez Perce tribes fish on the mainstem Columbia from Bonneville to McNary dams and in bank fisheries downstream of Bonneville Dam.
While fishing is likely to be hot, so will be water temperatures. Temperatures at Bonneville Dam remained between 70 and 75 degrees in late July, too hot for fish and warmer than the 10-year average. As the river's anadromous fish move upstream, they also found water temperatures of 68 degrees and above at the other dams on the Columbia and Snake rivers.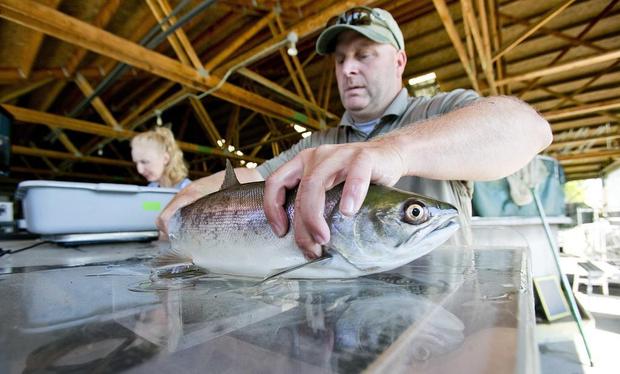 At least tens of thousands of sockeye bound for the Wenatchee and Okanogan river basins have died on a stretch of river above the Priest Rapids dams because of water temperatures, Washington Department of Fish and Wildlife officials said.
Sockeye migrating up the Snake River are in even bigger trouble. Water temperatures there are as hot as in the upper Columbia, but overall numbers of Snake River sockeye are much smaller.
Emergency actions were being widely deployed to help fish cope with the hot conditions. The U.S. Fish and Wildlife Service, Oregon Department of Fish and Wildlife, and the Confederated Tribes of the Warm Springs Reservation took the unprecedented step of transferring spring Chinook from a hatchery where water temperatures exceeded 70 degrees to one where temperatures were in the 50s.
In mid-July, they raced to move 160,000 juvenile and 680 adult Chinook more than 100 miles by truck from the Warm Springs National Fish Hatchery in Central Oregon to the Spring Creek National Fish Hatchery in the Columbia Gorge near Carson, Wash.
Near Lyons Ferry hatchery, downstream of Little Goose Dam on a lower Snake River tributary, two sockeye were observed in late July in a pool fed by cool underground water. The two fish, along with as many as a 100 Chinook and steelhead, were holding in the cooler water. Idaho Department of Fish and Game and Nez Perce biologists considered netting the sockeye and transporting them to the Eagle Hatchery in Central Idaho, but decided it was not feasible.

Related Pages:
Sockeye Arrives at Stanley Despite Warm Water by Associated Press, Teton Valley News, 7/29/15
Salmon Dying by the Thousands in Hot U.S. Rivers by Ted Ranosa, Tech Times, 7/29/15
First Sockeye of Year Returns to Redfish Creek Despite Hot Rivers by Rocky Barker, Idaho Statesman, 7/28/15
Why Are Thousands of Migratory Salmon Dying Before They Can Spawn? by Courtney Sherwood, Christian Science Monitor, 7/27/15
Biologists Bring Sockeye into Idaho on Trucks to Get Them Out of Hot Water by Rocky Barker, Idaho Statesman, 7/17/15
Sockeye Salmon Suffer Infections in Warm Columbia River System by Rich Landers, Spokesman-Review, 7/17/15
Half of Columbia River Sockeye Salmon Dying Due to Hot Water by Associated Press, The Oregonian, 7/18/15
---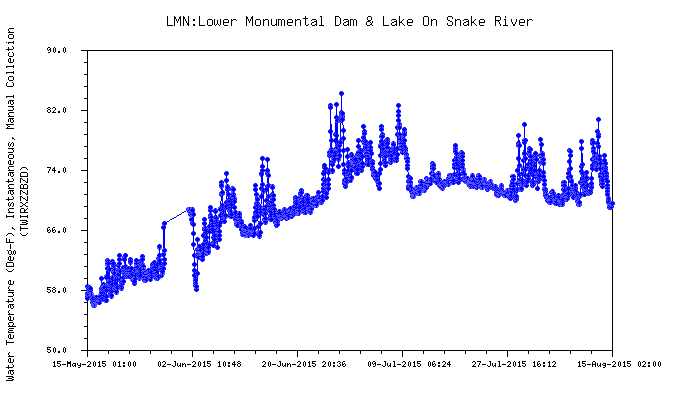 ---
---
---
---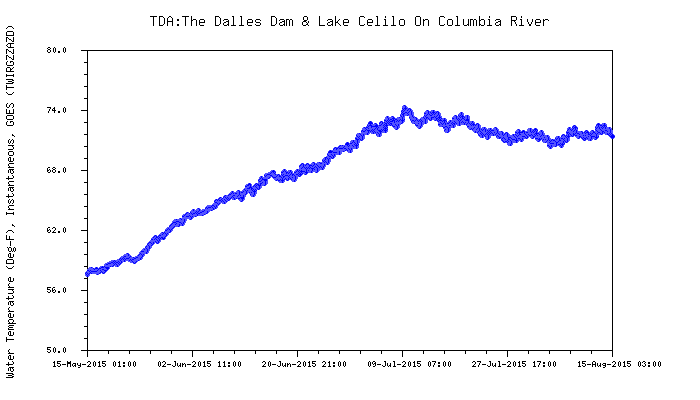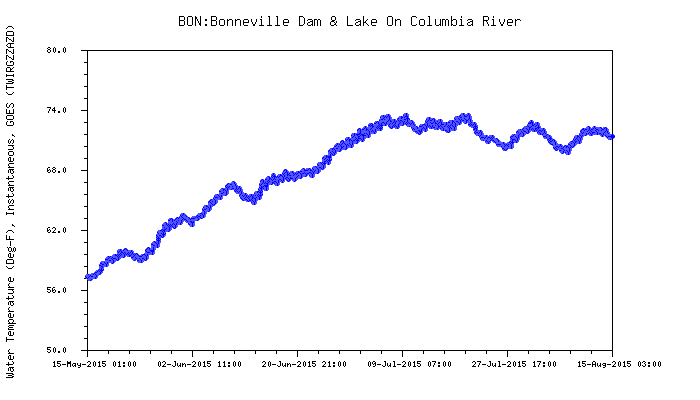 ---
Laura Berg
Salmon Keep Coming and So Does the Hot Weather
NW Fishletter, August 11, 2015
---
See what you can learn
learn more on topics covered in the film
see the video
read the script
learn the songs
discussion forum