---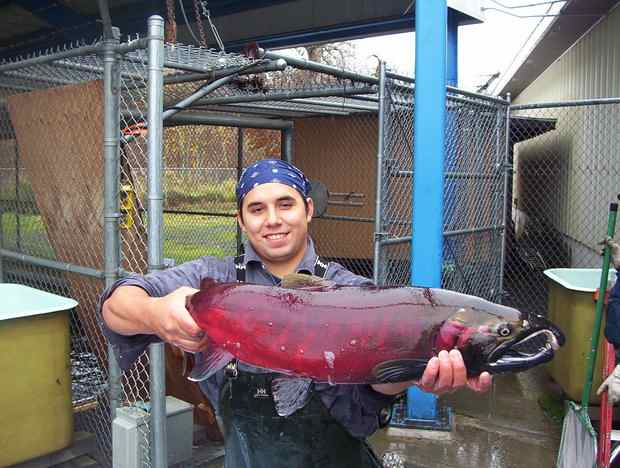 A program funded by the Pacific Salmon Recovery Fund to reintroduce coho salmon into Idaho's Clearwater River is paying off in a big way.
Starting in the mid-1990s, the Nez Perce Tribe began using surplus coho eggs from lower Columbia stocks returning to a hatchery near Bonneville Dam to seed the river. The tribe has brought the run back from total extinction to a return of more than 16,435 fish at Lower Granite Dam so far this fall.
"Reintroduction of coho is succeeding in the Clearwater Basin," said Silas Whitman, chairman of the Nez Perce Tribe, in a statement. "The only reason the Nez Perce Tribe has been able to bring them back, and keep them here, is because of this essential Pacific Coastal Salmon Recovery Funding."
"The returning coho are being harvested and spawning and part of our cultural connection to these fish has been re-established," said Whitman. The tribe said it had spent about $5 million on the project since 2000--with some funding coming from the Mitchell Act--that pays for federal hatchery operations
Coho had been extirpated from the Clearwater after the construction of Lewiston Dam in 1927. Attempts by IDFG to rebuild the run in the 1960s ultimately failed. The 45-foot high dam was finally removed in 1973.
The Clearwater coho count at Lower Granite Dam had been as high as 900 fish in 1976, but dwindled to 43 by 1980, and down to nothing by 1984. It stayed that way until 1997, when 93 showed up, after the program began. Nearly 5,000 fish returned in 2008 and 2009, and 5,348 were counted in 2011, a record since the reintroduction program began. Last year, about 2,000 returned.
In 2011, the Nez Perce Tribe said in documents outlining the project, that they envisioned an annual escapement of 14,000 coho to the Clearwater River Subbasin, but would require a "substantial hatchery production component and the establishment of highly productive naturally spawning coho salmon aggregates." Current project goals include collecting 1,200 returning adults from the Lapwai Creek weir, the Kooskia National Fish Hatchery on Clear Creek, and the Dworshak National Fish Hatchery on the north fork of the Clearwater. The tribe expected those 1,200 adults to produce 850,000 smolts reared at the Eagle Creek and Dworshak facilities.
Smolt-to-adult return rates (SARs) have improved over time. According to tribal data sources, SAR for the 1999 Clearwater coho outmigration was 0.02 percent. By 2009, the SAR was estimated at 0.5 percent.
"In a year of great salmon returns this one stands out because it started from zero," said Barry Thom, deputy regional administrator of NOAA Fisheries. "Few places in the world can say they have brought back a lost salmon run, but the determined work of the Nez Perce Tribe has done exactly that. That work is benefiting many others."
The tribe actually had to sneak its first load of surplus coho eggs into the state in 1995, after Idaho Department of Fish and Game refused to grant a transfer permit for the out-of-state hatchery eggs without a management plan approved by state and federal officials. Fish managers were concerned about transplanting a coho stock that had only migrated 150 miles to the ocean, to a place where it would have to swim hundreds of miles more.
But tribal officials figured it would take years for a plan to be approved. An armed tribal enforcement officer accompanied the eggs across the border, but no one tried to stop them, recalled Nez Perce leader Samuel Penney in a 2012 story by Boise State Public Radio/Idaho Public Television.
On Oct 15, IDFG approved a fishery on the returning coho from Oct. 17 to Nov. 16.
---
Bill Rudolph
Snake River Coho Setting New Record
NW Fishletter, October 23, 2014
---
See what you can learn
learn more on topics covered in the film
see the video
read the script
learn the songs
discussion forum