---
Portland partners with Oregon and EPA on unique $24 million agreement to encourage
those responsible for pollution in the Portland Harbor to create cleanup plans.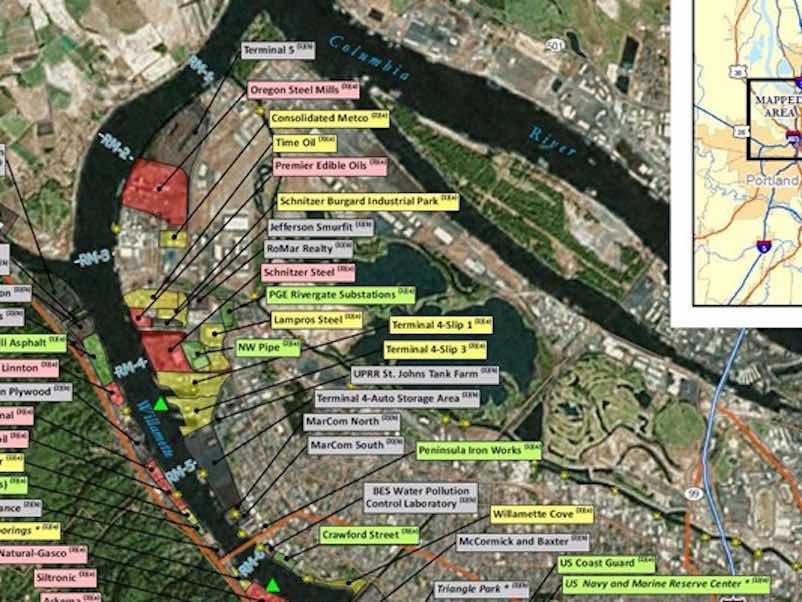 The City Council unanimously approved an agreement to jumpstart the cleanup of the Portland Harbor Superfund Site on Wednesday, May 22.
Portland, the State of Oregon and the U.S. Environmental Protection Agency have agreed to create a $24 million fund to encourage the design of cleanup plans for the polluted portions of the site. The city and state will each contribute $12 million to a trust administered by the EPA, which designed a 10-mile stretch of the lower Willamette River a superfund site in 2000.
The money will be offered to the more than 150 parties identified by the EPA with potential liability for paying cleanup costs in 2017. Under the agreement, $80,000 per acre would be available to the potentially responsible parties (PRPs) to help pay for the remedial design of their cleanup plans.
"Today we are taking a major step forward toward a cleaner and safer Willamette River," said Commissioner Nick Fish, who is in charge of the Bureau of Environmental Services, the city's agency most involved in the cleanup
Portland's share of the money would come from a superfund-related charge being collected in the city's combined water-sewer-stormwater management bills. Oregon's share would come from funds already approved by the Legislature for cleaning up the site.
"This is an example of good governance. It is a milestone we can all celebrate," said Mayor Ted Wheeler.
The EPA has never approved a similar proposal -- called the City and State Settlement Agreement -- to help clean up a superfund site before.
The EPA has estimated the total cleanup costs at around $1 billion. It has been in secret negotiations with the PRPs for several years. The goal is to get them agree on how much each should contribute to cleaning up all of the polluted locations in the site. Portland and Oregon are both potentially liable for multiple locations.
Some of the PRPs have already admitted potential liability and begun working on locations. They include the city, the state, the Port of Portland, PGE and Northwest Natural. Others are believed to be reluctant to admit liability and incur cleanup costs.
The EPA informed the PRPs in December 2018 that they must begin
negotiations June 30 to perform remedial design work for the areas not already under agreement and sign remedial design agreements by December 31. Portland and Oregon support those efforts.
The EPA can go to federal court to force compliance. The fund is intended to encourage compliance instead. Under the agreement, the EPA will credit the city and state for the trust funds spent for remedial planning by the other PRPs.
You can read the ordinance about the agreement here.
---
Jim Redden
Council Approves $24 Million Superfund Cleanup Planning Agreement
Portland Tribune, May 22, 2019
---
See what you can learn
learn more on topics covered in the film
see the video
read the script
learn the songs
discussion forum