---
BP Solar & NREL to Receive Prestigious Award from R&D Magazine for Breakthrough Invention in Clean Energy BP Solar's PowerViewTM laminate has just joined a select group of breakthrough products, a group which includes the digital wristwatch, antilock brakes, the automated teller machine, the liquid crystal display, the fax machine, and the anti-cancer drug taxol. Like these products, PowerView has been named a winner in R&D Magazine's R&D 100 competition. PowerView is a photovoltaic laminate which converts sunlight into electricity while permitting some light to pass through. It performs the traditional role of architectural glass in a range of building applications, particularly overhead and sloped glazing, but in addition generates electricity to lessen the building's dependence on utility power.
The Chicago Tribune has called the R&D 100 Awards the "Oscars of Invention." This year's 40th annual competition attracted entries from many of the most prestigious companies, research organizations, and universities in the world. The award is based on an invention's "technological significance," which includes such factors as large increments of improvement over what existed before ("leapfrog gains in performance") and potential for improving the lives of large numbers of people. PowerView's recognition was based on low manufacturing cost, stable long-term power generation, and the fact that it supplements long-recognized benefits of photovoltaic products with great architectural potential and other benefits specific to buildings.
PowerView uses BP Solar's proprietary thin-film silicon technology. Early funding for development of building products using this technology was provided by the U.S Department of Energy's PV Bonus program. Development of PowerView was funded in part by NREL, the National Renewable Energy Laboratory, which also provided project management services. NREL and PowerView's primary developers, Bob Oswald and Frank Liu of the BP Solar facility in Toano, Virginia received news of the award in July. Dr. Oswald's vision and determination shepherded PowerView through a long development period. Dr. Liu's expertise with lasers was essential to developing a process which precisely controls the 200,000 tiny holes in each square foot of the laminate's silicon films, allowing light transmission with minimal effect on electrical generation. This process, selective laser ablation, may be programmed for specific transmission percentages and to reproduce signage patterns such as corporate logos. Present commercial PowerView laminates allow 5% transmission while generating up to 6 watts per square foot.
PowerViewTM is one of BP Solar's products targeted specifically for integration into buildings; as such, it shares the strengths of other building-integrated photovoltaics (BIPVs.) BIPVs replace other building materials such as glass, spandrel panels, and roofing, and thus effectively reduce the cost of adding solar power to a building. Other attractive BIPV characteristics include their on-site generation nature (no electrical transmission losses) and the fact that their seasonal or daily generation profile can often be planned to match demand peaks.
To these generic BIPV strengths, PowerView adds low cost, controlled light transmission, the decorative option of signage, and the ability to be substituted into many glazing applications. Planned developments include PowerView products with enhanced thermal performance for use in vision glass installations, which will expand the present market to some segment of the total architectural glass market: 2.5 billion square feet annually. PowerView has the potential to change this huge glass area, now a recognized building energy drain, into a net energy gain.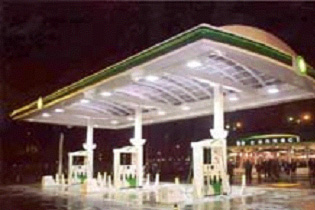 Demonstrating its deep-seated corporate commitment to solar energy and to this product, BP is installing PowerView on the canopies of its BP Connect stores, modern multipurpose retail outlets. The canopies generate a significant part of the energy required by the stores. Over 350 BP Connect stores now feature canopies with photovoltaic power systems, with total peak generation capability of approximately five megawatts. Two hundred of these canopies-some still under construction-include PowerView laminates.
Editors note: BP is one of the world's leading solar companies, with nearly 20% of the global market. In 2001 it had a turnover of $240 million, and produced over 54 megawatts of solar photovoltaic equipment. BP Solar has manufacturing plants in the US, Spain, India and Australia. Headquarters is located in Linthicum, Maryland.
---
BP Solar
Breakthrough Product Wins "Oscar"
San Francisco Chronicle September 17, 2002
---
See what you can learn

learn more on topics covered in the film
see the video
read the script
learn the songs
discussion forum