---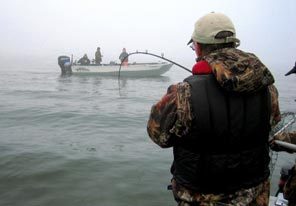 VANCOUVER, Wash. - The low fog hung like a thick shaggy carpet over the Lower Columbia River. But while it felt like winter, spring was in the air.
Flowers were in full bloom, the alder trees had me sneezing from the hay-fever blues, and a giant return of 298,900 upriver spring chinook was already migrating back.
If the forecast pans out, this would be the third-largest spring chinook return since 1977, and might mirror the stellar fishing seasons of 2005 and 2008.
Add to that an additional 37,600 spring chinook expected in the Willamette River - up from 27,000 last year - and you've got a cornucopia of fish.
I got hooked on this early-season fishery last year, which generates millions of dollars for the sport-fishing industry and related businesses, and lures thousands of anglers every day.
I recently reunited with Joe Hymer, a state Fish and Wildlife biologist, and his co-worker, Wil Morrison, at a private marina on the Portland side of the river, just below the throng of morning commuters on the I-5 Bridge.
The majority of the sport-fishing fleet was working the popular area between I-5 and Portland International Airport, but we had a different plan.
Unlike last season, the west power lines on Hayden Island downstream to Buoy 10 are open Thursdays to Saturdays only until this weekend, so we decided to try Davis Bar, just across from the mouth of the Willamette River.
"Not only would we get a chance to catch some upriver spring chinook, but we also might get a fish entering the Willamette, too," Hymer said as we ran downstream past Hayden Island.
The Washington side of the river was lined with rows of anchored barges. We started our drift at the middle row of barges, and trolled downstream to the flushing channel at Vancouver Lake.
Our gear comprised of a 6-ounce lead-ball sinker attached to a spreader bar with a medium-sized green or chartreuse Fish Flash, to an 8-foot leader linked to two mooching hooks to a blue-dyed cut-plug herring.
It was really foggy, but every now and then we'd peer at someone hooked up to a fish.
The high-tide change was at 7:15 a.m., and according to Hymer this was prime time for the bite to happen.
On our first drift, in water 25 to 35 feet deep, we watched our rod tips vibrating as they bounced along the sandy bottom.
I quickly glanced over and saw Hymer's rod make two quick dips, then he grabbed the rod as the fish made some strong runs at the rear of the boat. After a few near misses with the net, Morrison gently hoisted Hymer's first "springer" of the season into the boat.
"We've got us a nice 'white-face' hatchery spring chinook," said Hymer, using a term that identifies a Willamette River-bound fish by its distinct shiny head and lower jaw, and fat body shape.
We immediately rushed back up to the same spot and started the program again. This time we noticed several boats had fish hooked up, and the bite was definitely on.
About halfway down the drift I saw my rod take a few hard dips into the water, and now it was my turn to fight one of these highly prized, good-tasting fish that many say rivals the Copper River king in Alaska.
My springer was a stubborn fish that made several runs out away from the boat, then dove deep under the boat as I chased it around in circles. Several minutes later we brought the 12-pound hatchery-marked fish into the boat.
As the tide changed the bite started to wane, although we did see one or two fish caught on each drift.
We still needed one more fish to get our one-fish daily limit in the boat. Just as things started to go south, Morrison's rod jerked hard in the rod holder and he hollered, "Fish on!"
We quickly cleared our gear from the water as his fish made a run out and away from the boat, and less than 39 seconds into the battle it unhooked itself.
It was only 10 a.m. and we weren't about to give up, so we ran back upstream and made numerous drifts with no luck.
Hymer made several phone calls to other people on the water that day, and it appeared we were in the zone as fishing above the I-5 Bridge was not much better.
The sun broke out and the warmth of a nice spring day broke through the clouds. It was 1:30 p.m. when we decided to call it quits.
While we came up a fish short of our limits we fared much better than most on the river that day, and we knew this was just the start of another magnificent season.
---
Mark Yuasa
The Bite is On for Early-season Chinook
The Seattle Times, April 13, 2009
---
See what you can learn
learn more on topics covered in the film
see the video
read the script
learn the songs
discussion forum