---
New study involves health of eyes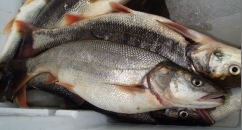 If you are still balancing the risks and benefits of eating fish, stop. There is no contest.
Fish, especially fatty fish, is good for you. For most people, experts say, the benefits outweigh any drawbacks related to concerns about toxic matter in fish.
In the latest studies of fish-related health benefits, published Monday in the Archives of Ophthalmology, researchers found that eating fish rich in omega-3s reduced the risk of macular degeneration, the leading cause of age-related blindness. The research confirms similar earlier findings.
Omega-3 fatty acids are found in the highest concentrations in oily fish such as salmon, trout and herring. The most documented benefit of omega-3s is to cardiovascular health.
Just why it happens is still being studied, but the American Heart Association says research has shown that omega-3 fatty acids contribute to a decreased risk of sudden death and arrhythmia; decreased thrombosis (blood clots); decreased triglyceride levels; decreased growth of atherosclerotic plaque; and lower blood pressure.
Omega-3s also show promise for reducing the risk of dementia, arthritis, asthma and kidney disease, the heart association reports.
Despite the clear benefits of fish, warnings about polluted waters have some concerned that a buildup of toxic matter in fish, including mercury and PCBs, could diminish or counteract their good work. High levels of PCBs have been found in Puget Sound chinook salmon, for example.
Because pregnant women and children are more vulnerable, health officials recommend taking special care to avoid large fish that tend to accumulate toxic matter, including swordfish, tilefish and mackerel. Canned albacore tuna also should be eaten sparingly.
Still, for the overall population, "There's no evidence that any toxic effect of anything like mercury outweighs the benefits," said Dr. David Siscovick, a professor of medicine and epidemiology at the University of Washington.
The new studies on blindness aren't the strongest level of scientific evidence, but they confirm the findings of previous studies that also link fish consumption with prevention of macular degeneration.
A study of 681 elderly American men showed that those who ate fish twice a week had a 36 percent lower risk of macular degeneration. In the other study, which followed 2,335 Australian men and women over five years, people who ate fish just once a week reduced their risk by 40 percent.
Researchers don't yet know why eating fish seems to protect the eyes. Omega-3 fatty acids may neutralize free radicals in the eye, prevent the formation of new blood vessels, reduce inflammation or all three, said Dr. Emily Chew of the National Eye Institute.
The benefits of a diet rich in fatty fish were first observed in the Eskimos of Greenland and in Japan, Siscovick said.
Omega-3 fats, which help keep cold-water fish from freezing, act as a natural blood thinner and anti-inflammatory in humans.
And as little as two 3-ounce servings a week can make a difference for cardiovascular health, Siscovick said.
"Not all fish are alike," Siscovick said. "The type of fish (and how it's prepared) is important."
For example, baked or broiled salmon is a better choice than a fried cod sandwich, he said. Salmon, which is high in omega-3 fatty acids and relatively low in mercury contamination, is generally a good choice, experts say.
Depending on where the fish feed and are caught, they might also have higher levels of contaminants, said Gary Palcisko of the state Health Department. The department is preparing a report looking at salmon caught in Puget Sound, for example.
"Although Puget Sound salmon may be more contaminated than those that come from the ocean, relative to other types (of fish) it's still low," Palcisko said. "Salmon is still a good choice."
Unless contamination of the waters is recognized and contained, at some point the risks of eating fish could outweigh the benefits, some activists say.
Peter Ross of the Canadian Department of Fisheries and Oceans studies the levels of PCBs in harbor seals in British Columbia and Washington. The seals eat up to 12 pounds of fish a day, including herring, salmon and sole, "serving as a bit of an early warning system as to what's happening at the top of the food chain," Ross said.
In the harbor seals he studied, Ross found reduced immune system function and thyroid levels that are consistent with PCB exposure.
"It's important for us to identify what's happening in the environment, and it's important for us to act on those trends."
The benefits and risks of eating fish vary depending on a person's stage of life. Children and pregnant and nursing women may be at higher risk of exposure to excessive mercury from fish, according to the American Heart Association.
For middle-aged and older men, and women after menopause, the benefits of eating fish far outweigh the risks within the established guidelines of the Food and Drug Administration and the Environmental Protection Agency, the association says.
---
Julie Davidow
The Associated Press contributed to this report.
Benefits of Eating Fish Outweigh Risks
Seattle Post-Intelligencer, July 11, 2006
---
See what you can learn
learn more on topics covered in the film
see the video
read the script
learn the songs
discussion forum