---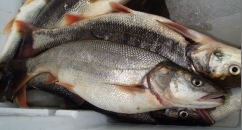 THE DALLES, OR AND BAYVIEW, ID -- Wildlife managers know that one way to help a threatened species is to go after the predators. So Northwest states are paying anglers to bring in certain fish. In Oregon and Washington, the payment scheme has inspired some fishing enthusiasts to make a living as bounty-hunters. The best can reel in as much as $40,000 a year. Now Idaho is trying its own approach: how about lottery tickets in exchange for trout heads? We have two reports, beginning with Tom Banse on the Columbia River in Oregon.
Anglers are turning a hobby into work along the Columbia and lower Snake Rivers.
Tim Histand: "I'm Tim Histand. I'm a pikeminnow fisherman. I'm fishin' about a half-mile below the John Day Dam."
(Sound of waves.)
Two years ago, the self-employed contractor decided to cut back his hours installing siding and windows to instead pursue bounty fishing.
Tim Histand: "If you can catch a lot of fish and you enjoy fishing, it beats swinging a hammer right now."
The native pikeminnow used to be known as squawfish. They school below the dams where they feast on disoriented young salmon. Those smolts migrating downriver include endangered runs.
(Sound of casting.)
The Portland man casts from shore with a 9-foot pole. His lure mimics a baby salmon.
Tim Histand: "We've finally hooked a fish."
Histand quickly reels in a silvery torpedo with a fat belly, about 14 inches long.
Tim Histand: "They're very quick fast fish, but they don't have a lot of endurance."
Tom Banse: "It fought you, like, two seconds!?"
Tim Histand: "It's a two-second thrill." (laughs)
Histand collects from $4 to $8 per pikeminnow through a fishing reward program. Last year, he made more than $30,000 removing the salmon predators from the river.
That kind of success inspired retired logger Joel Wallsworth of La Pine, Oregon to give it a try to supplement his pension.
Joel Wallsworth: "If can make $3,000 or $4,000 above my expenses, I'd really like that. It'd be great."
The bounty program started at a dollar-per-fish in 1991. Since then, the payouts have gradually risen and been reconfigured. There's an incentive to go pro.
Pikeminnow reward coordinator Russell Porter says the program is now achieving its targets for helping salmon survival.
Russell Porter: "By removing that 10% to 20% each year, we don't exterminate the pikeminnows, but we restructure predation more to what it was traditionally in the river before the advent of the dams."
Electric ratepayers throughout the region foot the bill for the bounties. But if you're thinking of quitting your day job, a top-ranking angler has a word of caution.
(Sound of fish plopping into bin.)
Steve Webber of Salem says this year's season is off to a slow start. Pikeminnows are harder to find.
Steve Webber: "It takes a lot of hours. You gotta get up early in the morning. You gotta fish hard all day, basically. If the wind doesn't blow, it's seven days a week. You don't take days off at all, or I don't."
Webber figures it'll be tough to equal the $21,000 he earned last spring and summer as a bounty fisher.
(Ambient sound crossfades.)
I'm Elizabeth Wynne Johnson in North Idaho. We're on Hobart Jenkins' fishing boat in the middle of Lake Pend Oreille.
Hobart Jenkins: "And we're out here trying to catch some of the predatory trout, the rainbow or the lake trout, to reduce the predation on the kokanee. Because the kokanee, which is a land-locked salmon, is the food base for all the fish in this lake."
That makes the kokanee valuable, both ecologically and economically. Having them around keeps the local recreation industry healthy. But they're in trouble. State wildlife managers say the kokanee salmon will be gone in three years, unless something dramatic happens to bring their numbers back up. That's why Idaho's creating new incentives to go after the predatory trout.
Hobart Jenkins: "Anybody who catches a fish, like if we get one today, we'll dress it, cut off its head, have it scanned for a pit tag."
Pit tags are tiny microchips. A percentage of rainbow and lake trout are implanted with them.
Hobart Jenkins: "If I get lucky, I'll get anyplace from $100 to $2000 for that."
Jenkins hasn't gotten lucky yet. But every trout he catches also doubles as an entry in a separate cash drawing this month. On top of that, for every trout head Jenkins turns in, he gets a scratch lotto ticket. It's no way to make a living, but it could be a nice windfall.
Hobart Jenkins: "So we're having great sport. You get to go fishing but you get paid to do it, if you're lucky! (laughs) It's fun to be paid to go fishing. Almost sinful, it's so much fun."
Idaho's incentive program to restore the kokanee by reducing the number of predatory trout is still new. But Jenkins says it seems to be working. He sees more boats out fishing than he used to.
Just then, one of the lines starts jerking. Jenkins and his partner Clare Cosgrove jump into action.
Hobart Jenkins: "We have a fish on!" (sound of reeling)
Clare Cosgrove: "Wow, I don't think so ... I got a hunk of weed, Hob."
Hobart Jenkins: (disappointed) "Yeah, I see it."
The sun sets on this trip without any success in bounty-fishing. Jenkins may have lost today's chance at scratch lotto, but he'll be back.
Hobart Jenkins: "If we catch this fish and two more, it'll make three. But we haven't caught this one yet. So I think we'll start in."
Related Sites:
Northern Pikeminnow reward program
---
Tom Banse and Elizabeth Wynne Johnson
Anglers Become Bounty Hunters In Effort To Help Salmon
OPB News, June 26, 2006
---
See what you can learn
learn more on topics covered in the film
see the video
read the script
learn the songs
discussion forum