---
MagnaDrive Drives Ahead in Sluggish Industrial Sector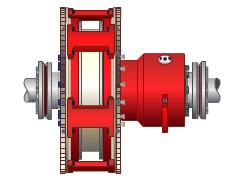 As the Northwest industrial economy struggles, a fledgling Seattle-based start-up company is poised to take off with a new energy-saving technology for motors.
MagnaDrive Corp. makes a unique breed of adjustable speed drive, called the MagnaDrive, that both saves energy and reduces equipment and maintenance costs of most couplings connecting motors to centrifugal loads. As with most adjustable speed devices, the MagnaDrive saves energy by adjusting the speed of the load to what is needed, rather than always running the load at full speed.
But unlike most in this family of technologies, MagnaDrive creates no physical contact between the load and the motor, practically eliminating power quality problems of harmonic distortion and the equipment wear and tear from the vibrations caused by even slight misalignment--both common problems with electronic variable frequency drives.
Inside the MagnaDrive, permanent rare earth magnets attached to the load are separated by millimeters from an electromagnetically charged surface driven by the motor; as the motor spins the MagnaDrive, the magnetic attraction between the two surfaces causes the load to spin as well. As the requirements of the load change, the space between the magnets changes, allowing the load speed to vary while the motor speed remains constant.
And while the biggest challenge for new energy-saving technologies often is to convince the market of their long-run benefits, MagnaDrive Corp. is attacking that problem directly, with educational tools taking data from current installations and personalizing life-cycle-cost benefits for potential new customers.
The company has received money from the Northwest Energy Efficiency Alliance and won IndustryWeek's Technology of the Year award in 2001. And while the Alliance dollars-- which have funded field testing, a training tool and other market transformation activities--end this year, it appears the company has established a sufficient foothold both regionally and nationally to continue expanding its market penetration, according to Alliance and MagnaDrive officials.
Adjustable Speed Drive Market
Electronic VFDs are often competitors of MagnaDrive, but company officials think the market is still wide open, and its technology is unique enough to directly compete with other VFDs while carving out its own niche.
Extrapolating from an earlier U.S. Department of Energy study on adjustable speed devices, MagnaDrive president and chief executive officer Jim Cich, who joined the company in March, told Con.WEB that the potential market is at least several billion dollars. The DOE study found that any industrial motor application experiencing at least 30-percent variable load could justify the expense of an adjustable speed device based on energy savings alone, and that 25 percent of the market fits that criteria. About 9 percent of motors now use some type of adjustable speed device.
And while that 9 percent, representing about $1.6 billion, could be construed as MagnaDrive's competition, "the much larger market is actually people who have not used adjustable speed devices," or the remaining 16 percent, Cich said. "You could say our competition is not necessarily the other adjustable speed devices, our competition is the inertia of doing nothing different."
Additionally, because of the lifetime maintenance and equipment savings and power quality improvements with the MagnaDrive, the company believes some customers can economically justify adding the device on motors with only 10-percent to 15-percent variable load. And though the nature of the MagnaDrive technology itself--to vary the torque on the load and keep a constant motor speed, rather than vary the motor speed--makes it best fit for high-horsepower centrifugal applications like fans, pumps, blowers and centrifuges, Cich estimates the potential market at "multiple billions of dollars."
Confronting Barriers
MagnaDrive's strategy, then, is to try to directly dissolve the barriers that keep industrial players "doing nothing different" to save energy and money and improve processes.
As with many energy efficiency technologies, the main barrier for MagnaDrive is a lack of understanding among potential customers of its full benefits on a long-term cost basis, rather than first cost. Life-cycle cost benefits are one of MagnaDrive's main selling points, but the technology can be more expensive initially--generally the MagnaDrive units for low-horsepower motors and medium-voltage applications cost twice as much as electronic VFDs, Cich said, although in higher horsepower ranges the costs are comparable.
"Over the years we always have a challenge to continue to use life-cycle-cost analysis," said Alliance MagnaDrive program manager Bob Helm. "When you begin to put in a longer-life systems you need to look at non-energy benefits, like what's happening to utility and labor rates--all of that needs to be rolled in for you to do your net present value. There are a lot of areas in a lot of companies that don't look at their projects in that kind of depth. We are always battling that."
An Alliance survey of 15 market actors--10 of whom bought a MagnaDrive unit and five of whom did not--showed that nearly all made decisions on first cost rather than life-cycle cost. Results also suggested that the risks of adopting new technology could outweigh MagnaDrive's lower maintenance costs. Still, five of the purchasers bought a second unit, and four of the five non-purchasers hoped to buy if they could secure funding.
The most common approach by efficiency technology companies to surmount this hurdle has been to tap utility and government incentive funds to lower first costs. MagnaDrive has done this when possible, but the company has also taken another approach: give consumers a simple tool to see their own life-cycle costs. Cich said potential customers understand the life-cycle-cost concept, but they don't know how to compute it in practice.
In addition to accumulating a national network of sales representatives, distributors and original equipment manufacturer partners, MagnaDrive's most recent tack has been to develop a compact disc with educational software allowing potential customers to analyze life-cycle costs based on their own assumptions about their facility's characteristics, such as energy and maintenance costs, load profile, downtime from power quality events and equipment replacement. The CD is currently in beta testing by a few distributors, with an expected introduction to the rest of the distributor network in December and a full launch in 2004. This summer, MagnaDrive also launched an introductory online adjustable speed technology training program for use by students, professionals and potential customers.
MagnaDrive Vs. Other Adjustable Speed Technology
Some industries are already fully aware of the economic tradeoffs with adjustable speed devices, but have been unable to make the devices work at their facilities--MagnaDrive hopes to make inroads in this market. The company recently received a few large orders from semiconductor fabrication plants that could not install electronic VFDs because the harmonic distortions would have disrupted their sensitive electronics.
Additionally, electronic VFDs have complex controls that require a clean, dry environment to operate, often necessitating that the controls be housed in a climate-controlled room separate from the motor and the load. MagnaDrive doesn't exhibit such environmental sensitivity, but its location directly between the motor and load can cause difficulty and increased costs in retrofit applications where it's difficult to move the motor and load. Still, in such situations, Cich said there is much the company can do to creatively arrange equipment.
Research conducted several years ago by Alan Wallace, director of the Oregon State University Motor Systems Resource Facility, showed that when comparing a MagnaDrive unit designed for a low-horsepower motor to an electronic VFD, the VFD was more energy efficient, but the efficiency of the MagnaDrive improved as the speed of the load approached its full capacity.
Johnny Douglass, a senior industrial engineer and motors expert at the Energy Ideas Clearinghouse, told Con.WEB it is quite possible MagnaDrive's efficiency could eventually surpass electronic VFDs at speeds near output capacity, especially for the larger horsepower units in which MagnaDrive specializes, because all electronic VFDs have some fixed losses. MagnaDrive officials believe this is already the case. But while MagnaDrive will continue to emerge as a strong contender, Douglass said, electronic VFDs are also continuing to improve, becoming less expensive and generating new ways to reduce their impact on power quality.
Market Headway
The company has so far developed products for use on motors up to 1,500 horsepower, and has been courted by possible funding partners to increase the sizes to 2,500 horsepower and above. Cich said he's willing to pursue the smaller end of the size spectrum because there are so many motors in that category, but the economics work better on larger units.
An Alliance market progress evaluation report on MagnaDrive released this summer--based on information through 2002--concluded that while the company was making strong market progress, not enough was being done to attract utility incentives for the technology, which it said would be an important component in continuing market penetration. Cich, however, said the national utility financial environment is still six to nine months away from being able to establish new incentive programs. Until then, he said the company has to focus on getting a strong foothold in target markets.
In the Northwest, however, with the Alliance's help, utilities and incentive programs have been more open to working with MagnaDrive. In the last year several installations have garnered funding from Seattle City Light, the city of Port Angeles, Bonneville Power Administration and others, according to Northwest sales manager Steve Manwell.
Since its beginnings in 1999, MagnaDrive has made especially strong progress into the wastewater treatment industry--almost by accident--and has branched out from there to the industrial market.
Manwell started out with a phone book and a map looking for ideas, and happened to drive by the Port Angeles wastewater treatment plant when he realized such a facility must have many pumps. The wastewater market also proved to be more open to exploring new technology than private industry; this allowed the company a real-world proving ground before expanding to other markets such as pulp and paper, lumber, food processing, cement, HVAC and irrigation.
Markets also are emerging in power generation applications, particularly to adjust the speed of blowers at power plants. And while it is farther away, Cich said he sees enormous opportunity in developing the technology for use in wind turbines.
Related Sites:
MagnaDrive www.magnadrive.com
Northwest Energy Efficiency Alliance www.nwalliance.org

---
by Ben Gilbert
Energy Savings for Motors
Con.Web - October 29, 2003
---
See what you can learn
learn more on topics covered in the film
see the video
read the script
learn the songs
discussion forum