---
Proponents see clean energy; foes see marred hills, high utility rates
KENNEWICK -- The towering windmills, half as tall as the Space Needle, are sleek and otherworldly.
Thirty-seven of them line a golden hillside near here, whistling softly as their huge white blades slice the air. Two more are being erected this month at the Nine Canyon wind farm; another 10 are expected to be added later this year.
Today, 310 turbine-driving windmills are whirling in Washington and plans are being made to plug in hundreds more. The state ranks fifth nationally for wind-energy production, according to a trade organization.
Environmental groups have thrown their support behind the projects. Utilities catering to pollution-conscious customers and spooked over costly spikes in natural-gas prices are increasingly seeking out "green energy." And farmers are cashing in -- leasing chunks of arid, windswept fields to power producers.
But the state's wind farms are still whipping up controversy.
Some residents say the giant pinwheels are an aesthetic mess, marring unspoiled hillsides. They worry property values will drop and birds will be sliced and diced. Others object to the tax breaks and higher power rates charged by the wind farms.
The debate over wind power has divided residents in Kittitas County, where Zilkha Renewable Energy wants to erect 240 turbines in the next couple of years.
"I love 'em," said Bernice Best, who lives on a ranch in Ellensburg. "I know exactly where I stand on this. When we moved to the Kittitas Valley in 1990, I wondered why no one had taken advantage of the wind. It's clean. It's free."
Best has driven out to the wind farms already operating on hills above the Columbia River. Near the Nine Canyon project is the massive Stateline Wind Energy Center, with 454 turbines stretching from Walla Walla County to Umatilla County, Ore.
There are no plans to build wind farms on the west side of the Cascades, where wind speeds tend not to reach the desired average: 16 mph. The gusty hot spots are along the Columbia Gorge or east of Snoqualmie Pass.
The Washington coast also has strong winds, but industry experts suspect that public objections to erecting rows of windmills there would be insurmountable.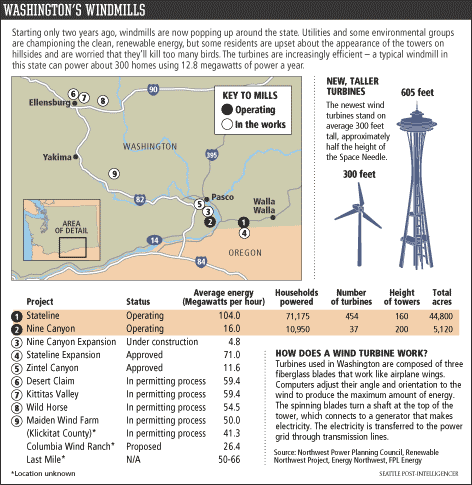 Nine Canyon's windmills are planted in fields of wheat grown without the help of any irrigation save scant rainfall. The farmers are divvying up about $70,000 a year for leasing 3,000 acres.
The steel towers run 200 feet high, topped by three blades -- each the length of a Boeing 747's wing. They make surprisingly little noise.
"I was just totally impressed," Best said of her visit to the farm. "They just seemed so graceful."
Environmental groups are similarly enthralled. The Sierra Club, Washington Public Interest Research Group and non-profits working to curb global warming are wind-power proponents, while Audubon Washington is cautiously supportive.
Audubon officials are worried that project approvals don't consider the cumulative effect of multiple wind farms.
The big picture needs to be considered "so that we don't find ourselves in the same situation as we have with salmon," said policy director Nina Carter. Dams were built without looking at the overall impact on fish, she said, and now some environmental groups are calling for some to be removed.
The turbines are becoming increasingly efficient, power producers say, which means that they're increasingly safer for birds because they can spin more slowly and fewer are needed to generate the same amount of energy. (see Bird Fatalities: 1.7 Birds Per Turbine Annually by Mark Ohrenschall, Con.Web, 9/29/03)
Each of the windmills at Nine Canyon, based on normal wind conditions, produces enough electricity to serve nearly 300 homes.
"This is a rapidly evolving technology," said Chris Taylor, manager of the Zilkha project in Kittitas. "It's akin to the computer industry."
Compared with prior models, today's windmills are bigger, with an improved blade design that captures more wind. They're also better built, so they break down less frequently.
While the energy crisis that began in 2000 gave a boost to the expansion of wind power, it's still just a blip in the Northwest's overall energy production. It would take about 2,900 new windmills in Washington and Oregon for wind power to account for even 10 percent of the pie, which remains dominated by energy generated from dams.
Wind power generally is still more expensive than other forms of energy, like hydro and natural gas, although recent increases in natural-gas prices has narrowed that gap substantially. A tax credit from the federal government helps make it more competitive, but the law providing that break is set to expire at the end of this year. The credit has been renewed in the past, but only for two-year chunks, making long-term planning difficult.
Supporters of wind power are hopeful that the renewal will be approved and perhaps extended to cover three years.
At the state level, there has been a push to create a law requiring utilities to have green energy make up a set percentage of their power lineup, but it hasn't gotten far. California, Texas and others have passed similar laws.
It's just that kind of government support and prodding that irks John Winnett, who lives in Hidden Valley, near Cle Elum.
"The only reason they exist is through tax subsidies and inflated rates to consumers," Winnett said of wind farms.
Winnett and others are challenging the Zilkha project, which is still getting permits. He said that the monetary incentives are his biggest concern, but he's also worried that hundreds of windmills will change the "flavor" of the area's rural landscape and lower property values.
"It will no longer be Hidden Valley 'the beautiful hills,' " he said. "It's going to be 'over there where they have all the wind towers and the flashing lights at night.' "
Wind-power supporters reject complaints about tax breaks.
"Every form of energy, whether it's natural gas energy or nukes, has grandfathered-in subsidies," said Jan Johnson, spokeswoman for PPM Energy, which markets the power produced at Stateline.
Wind-power supporters are optimistic that demand for their product will keep growing. Since last year, Washington utilities have been required to allow customers to pay higher rates to support green energy, but the program is optional and so participation is limited. Solar energy is also produced in the state, but at even smaller amounts than wind power. PacifiCorp, a private utility and power company that operates in Yakima and Walla Walla as Pacific Power, will send out a request for proposals for a big chunk of renewable power by the end of the year.
The Bonneville Environmental Foundation, a non-profit supporting development of renewable energy, has helped secure the rights to 20,000 acres of land on the Columbia River in Klickitat County. Officials estimate that a wind farm there could power 48,000 homes.
"There's sort of been a critical mass building up around this issue and there's pent-up demand," said Rob Harmon, vice president of the Portland-based foundation.
---
P-I reporter Lisa Stiffler
Wind Farms Produce Power from Thin Air
Seattle Post-Intelligencer, September 19, 2003
---
See what you can learn
learn more on topics covered in the film
see the video
read the script
learn the songs
discussion forum