---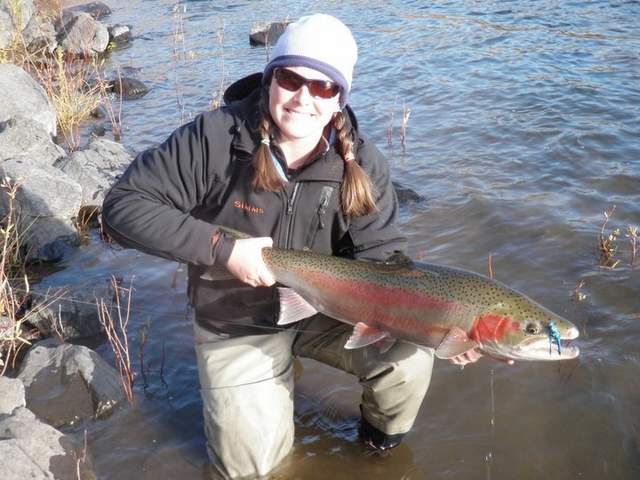 Salmon outfitter Jerry Myers grew up on a wheat farm in Genesee, north of Lewiston. He remembers when his dad took him steelhead fishing on the Clearwater River as a kid, and his dad handed him a pole with a beefy B-run steelhead on the line.
"I think after you've had an opportunity to fight and land one of these fish, you end up getting attached to them forever," said Myers, owner of Silver Cloud Outfitters. "These fish are more than chunks of flesh coming up the river. They enrich our lives just by their tenacity to live."
Today, Myers and his dad stand on different sides of how to save the steelhead.
As a former wheat farmer who shipped many tons of grain from the Port of Lewiston, his dad doesn't like the idea of tearing out four dams on the lower Snake to save steelhead.
Myers, who relies on steelhead fishing for about 15 percent of his outfitting business, believes steelhead and salmon are too valuable to lose. Since other attempts to save the fish have failed, it's time to seriously consider the "natural river" option, he said.
"Just last year, talk of breaching the dams was merely a whisper," he said. "Now, it's a solution that's being seriously considered."
Myers led discussions on the plight of the steelhead recently at the Idaho Outfitters and Guides Association meeting in Boise. Members heard pitches for and against breaching dams to save steelhead, and a unanimous plea to reject a proposal by the National Marine Fisheries Service to list steelhead as an endangered species.
NMFS has proposed listing Snake River steelhead along with 14 other steelhead runs in the Pacific Northwest. Public comments are invited on the proposal until Jan. 7.
Mitch Sanchotena, executive coordinator of Idaho Salmon and Steelhead Unlimited, urged outfitters to write Gov. Phil Batt and the state's congressional delegation and implore them to craft a plan to save steelhead. If the fish are listed as threatened or endangered, he said, NMFS is likely to impose restrictions on steelhead fishing or whitewater boating on the Salmon River, while agency officials ignore larger issues.
"If the fish are listed, NMFS will make a victim out of Silver Cloud or Shepp Ranch and pretend that they're doing something to recover steelhead," Sanchotena said. "And at the same time, they'll give the Army Corps of Engineers a permit to kill 85-90 percent of the juvenile fish in the dams."
"NMFS has a tendency to strain out the gnats and swallow the camels," said Ed Bowles, steelhead and salmon chief for the Idaho Fish and Game Department.
Randy Hess, owner of White Otter Outfitters, said he would be leery of listing steelhead as endangered since NMFS and the U.S. Forest Service have shut down the upper Salmon River to outfitting and recreation use during the spawning season. "If they list the steelhead, we could be out of business in four or five years," Hess said.
Reed Burkholder said he sees no benefit in listing steelhead as an endangered species since endangered sockeye and chinook salmon have been listed since 1991, and they continue to spiral toward extinction. Burkholder, a Boise music teacher, is the state's chief advocate for tearing out the lower Snake dams.
Even if it costs $500 million to breach the dams, Burkholder said, it would be more cost-effective to do that than spend about $425 million a year on measures that haven't saved the fish. He estimates the Port of Lewiston and grain farmers would lose about $20 million a year if the waterway were eliminated.
"Do we want to save the fish, and all the people and businesses connected to the fish, or do we want to save the port?" Burkholder asked. "The way I see it, the waterway cannot be justified anyway you slice it."
Lois Van Hoover, speaking on behalf of the Idaho Council on Industry and Environment, said removing the dams would increase the cost of shipping grain for farmers, increase shipping costs for Potlatch, Lewiston's largest employer, and increase truck traffic in the Columbia Gorge, among other things. "These are hefty costs," she said.
Sen. Dirk Kempthorne has called for a congressional audit of the costs and benefits of the lower Snake dams. Gov. Batt is considering the proposal, Burkholder said.
AT ISSUE
NMFS has proposed listing Snake River steelhead as an endangered species, along with 14 other steelhead runs in the Pacific Northwest. Public comments are invited on the proposal until Jan. 7.

---
Associated Press
Saving of Steelhead Spawns Debate on Breaching of Dams
Spokesman-Review, December 15, 1996
---
See what you can learn
learn more on topics covered in the film
see the video
read the script
learn the songs
discussion forum