---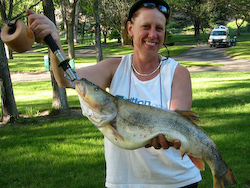 SPOKANE -- Pamela Ramsden caught more fame than fortune on her first attempt at cashing in on the northern pikeminnow bounty for the Snake River.
On May 16, the Deer Park hairstylist was trolling a Rapala near Boyer Park when she hooked and landed the pending Washington state-record pikeminnow.
The 26.25-inch-long fish weighed 7.91 pounds, easily exceeding the 7.36-pound record caught in 2000 in Mason Lake northeast of Shelton.
Overall, the fishing has been slow because of spring runoff. In five days of fishing, she and her husband, Brian, caught only six pikeminnows to turn in for the initial $4-a-fish reward paid by the Bonneville Power Administration.
"And we couldn't get a $4 voucher for the record fish because we wouldn't turn it in," Brian said. "We didn't catch enough fish to pay for the gas this trip, but we might be the only people with an 8-pound pikeminnow mounted on their wall."
The Northern Pikeminnow Reward Program has caused a lot of head scratching among various fishing groups, including salmon and steelhead guides -- and the walleye-releasing tournament anglers they love to hate.
The program debuted in 1991 to help mitigate the impacts of dams that blocked the free-flowing rivers and created slackwater and ambush points that give predators an unnatural advantage over migrating salmon and steelhead smolts.
Why is BPA paying fishermen to catch pikeminnows -- a native species -- while smallmouth bass and walleyes -- not native to the Columbia system -- get to munch all the smolts they want?
Russell Porter, Pacific States Marine Fisheries Commission senior manager for the pikeminnow program, offered some answers.
Based on 1980s studies in John Day Reservoir, researchers identified pikeminnows (then called squawfish) as the No. 1 predator on migrating smolts, far exceeding the take of walleye and bass, he said.
A bounty on pikeminnows, plus bonuses for tagged fish, offered the best bang for the buck.
In recent years, serious anglers have been attracted by the substantial paycheck they can earn catching pikeminnows. A Vancouver fisherman earned a record $48,348 during the five-month program season in 2006.
Edward Williams of Spokane was the fourth-highest earner in the 2007, landing 3,566 fish and collecting $27,728.
"The program has reduced the pikeminnow populations by about 37 percent, and that's saving about 5 million smolts a year," Porter said.
Anglers have been killing about 17 percent of the pikeminnows each year from Lewiston downstream to Cathlamet.
The annual cost for the program is about $3.8 million.
While pikeminnow numbers have been reduced, smallmouth bass and walleye populations are growing in some reservoirs, but monitoring has not yet indicated they are taking significantly higher numbers of smolts, Porter said.
"About 70 percent of the pikeminnow diet is salmonids," he said. "With smallmouth bass and walleyes, only about 20 percent of their diet is fish and only 8 to 10 percent of the fish are salmonids."
"Smallmouth bass eat a lot of crayfish and walleyes feed more on small shad, suckers and other fish.
"Bass and walleye both eat smolts, too, but we only have so much money. That's why we target pikeminnows."
The Ramsdens plan to bank some of that cash.
"We've learned a lot about this already," Pamela said, blushing to admit that she and her husband first thought the record fish was a carp because of its size.
"You don't get a lot of information from the guys in the Pikeminnow Camp (at Boyer Park). In fact, they're kind of owly about guarding their locations and what they're using.
"Even the lady at the check station didn't know all that much. She didn't think it was a record, but my husband reads a lot of hunting and fishing stuff and he knew we'd better get it to Colfax and get a weight slip on it.
"We've made reservations to go back in June when the fishing is better."
Boyer Park, incidentally, was tops among the 17 pikeminnow check stations on the Snake and Columbia last year, collecting more than 32,000 fish.
An earlier version of the story had the May 16 fish at 24.4 inches. State officials on Friday, May 23, verified the official length to be 26.25 inches.
Related Sites:
Pikeminnow Program, (800) 858-9015
---
Rich Landers, The Spokesman-Review
Record Pikeminnow Trumps Cash Reward
The Columbian, May 14, 2008
---
See what you can learn
learn more on topics covered in the film
see the video
read the script
learn the songs
discussion forum